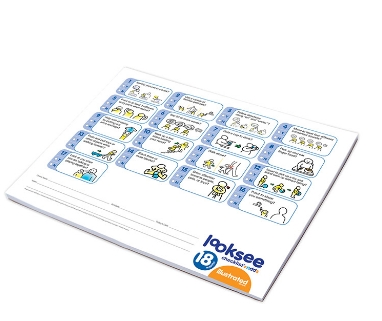 Illustrated Checklist
Supplemental checklists for the guides.
The Looksee Illustrated Checklist is an illustrated record of the parent's answers to the questions in the Looksee Checklist Illustrated Guide, an easy-to-use, developmental tool designed for use with parents who may have limited English literacy. The 13 checklists follow a child from 1 month of age up to 6 years and provide parents with a snapshot of their child's development to keep or share with other professionals.
The Looksee Checklist Illustrated Edition features:
Illustrated Questions
Each question is presented as a simple illustration to increase comprehension.
Follow-up Questions and Notes
Included in the support material are specific item clarifications, alternate questions, and examples to encourage a more accurate response from the parent.
Developmental Markers
Symbols indicating the areas of development covered by the question are also included in the support material.
$ 13.99