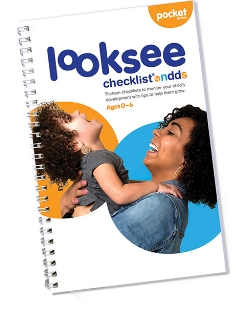 Pocket Edition
All our checklists in a convenient book.
The Pocket Edition is a convenient collection of the Looksee Checklists, compiled in a durable, spiral bound 5" x 7" book.
It guides parents through their child's development, allowing them to make the most of the time they spend together and celebrate their achievements. It also empowers parents to initiate conversations with their healthcare providers.
In addition, as a portable reference tool, ideal for waiting rooms, childcare centres, and home visiting programs, it is perfect for promoting discussion and education in a professional setting.
Free shipping for up to two Looksee Pocket Editions.
$ 24.99